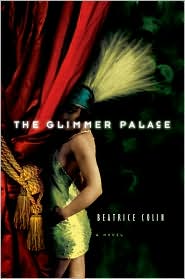 Author:
Beatrice Colin
Title:
The Glimmer Palace: A Novel
Release Date:
July 24th, 2008
Publisher:
Riverhead Hardcover
Genre:
Fiction
Book Jacket:
"The debauched celebration of the caberet era. The magical ascent of cinema. The deprivations of World War I and the buildup to World War II. Set against the rise and fall of Berlin and the innovations in art that accompanied it, The Glimmer Palace brilliantly weaves together the story one orphan girl's remarkably journey, from poverty to film stardom, with an illuminating account of astonishing history."
Taryn's Review:
I really enjoyed this book, but a caution I need to point out is that not everyone would enjoy this book. Colin used a rather advanced vocabulary and she included a large amount of history in this book, which might be a turn-off for some. That being said, this book was one that I didn't want to put down.
The story followed the life of an orphan, Lilly Nelly Aphrodite, and her world as it changed dramatically in her home city of Berlin, as well as her own life. Once the orphanage, the only home Lilly has ever known, closed she was tossed into the streets to handle life alone at the small age of 14. Lilly encounterd characters that both harmed and helped her. She was young and could not always protect her self (which at times was painful to read). Lilly took a variety of odd jobs to support herself, and quickly the economic tides turned in Berlin as the city suffered from the onset and consequences of WWI. Lilly had a good heart, one that seemed to always put others first, and it isn't until much later in life that Lilly truly indulged herself yet still never forgot those she has loved. The book had twists and turns that kept me guessing, all the while delicating interweaving the true story of what was happening in German during its tumultuous history in the early 20th century.
Colin also began each chapter noting the new inventions of the time period that aided Lilly in becoming involved in cinema. Film was a very new invention and Colin was well-versed in her history on the topic. As good as the book was, it isn't a warm, happy book that you will walk away from smiling. Nevertheless, it's a great read that will keep you guessing, and many times along the way your heart will glow, but also ache for Lilly Nelly Aphrodite.