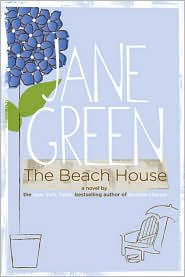 Author: Jane Green
Title: The Beach House
Release Date: June 17th, 2008
Publisher: Viking Adult (It sounds naughty...but it's not)
Genre: Fiction

Book Jacket: "Known in Nantucket as the eccentric woman who lives in the rambling house atop the bluff, Nan doesn't care what people think. She's sixty-five years old, her husband died twenty years ago, her beauty has faded, and her family has flown. If her neighbors are away, why shouldn't she skinny-dip in their swimming pools and help herself to their flowers? But when she discovers the money she thought would last forever is dwindling and she could lose her beloved house, Nan knows she has to make drastic changes.
So Nan takes out an ad: Rooms to rent for the summer in a beautiful old Nantucket home with water views and direct access to the beach.
Slowly, people start moving into the house, filling it with noise, with laughter, and with tears. First arrives handsome Daniel, quiet and contemplative and struggling to break free of his secrets. Then there is Daff, a recent divorcee who is looking to relax and reconnect with that part of herself that is neither wife nor mother, while her rebellious teenage daughter spends the summer with her father. Nan's son comes home for the summer, and as the house comes alive again, Nan finds her family expanding until an unexpected visitor turns all their lives upside down."

Taryn's Review: I wanted to love this book. However, in the first sentence of the book, I found a grammar mistake. It read, "The bike crunches along the gravel path, weaving around the potholes that could present danger to someone who didn't know the road like the back of their hand." In school we were taught that if "someone" is used, it is singular, thus the correct form would be, "like the back of his or her hand." The only other oddity in the book as far as grammar went was when 13 year-old Jessica got a baby-sitting job and she announced she'd never had a "proper job" before. Proper job? What? I looked up information about the author and found out she's originally from London. I understand a phrase like "proper job" is used in the UK, but it's odd to hear a 13 year-old American girl character say it!

The book, as the jacket indicated, was supposed to be about Nan, but it really wasn't. In fact, you can learn almost everything about Nan simply from the book jacket. The book revolved around various characters: the destroyed marriage of Daniel and Bee, the divorce of Daff and her husband Richard plus the toll it took on their daughter Jessica, and Nan's son, Michael, and his affair-gone-wrong. These characters were truly the brunt of the book; Nan felt more like the shadow in the story. The characters were very interesting and I thought Green did a great job telling their individual stories with the exception of the character of Sarah, who disappeared and then reappeared with little explanation.

The problem with the book was that everything worked out too well. The whole "unexpected visitor" was unexpected, but the situation was resolved so quickly that I felt like it was never really that much of a shock. And despite all of the problems everyone was going through, the book (spoiler ahead!) ended with everyone happy. The author often alluded to Nan being sick and frail, but she also had Nan painting doors, gardening, baby-sitting, and more. And sadly, Nan was hardly eccentric, like the jacket had suggested.

Overall, this might be a good book to read on a lazy beach day or when you are looking for a book that doesn't make you think really hard. It's predictable and not really memorable (you might find yourself wanting to skip ahead at times as it reads slowly), but it's a decent book to kill time.