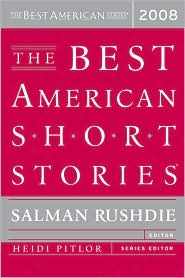 Editor:
Salman Rushdie, Series Editor Heidi Pitlor
Title: The Best American Short Stories 2008
Release Date: October 8th, 2008
Publisher: Mariner Books
Genre: Short Stories
Book Jacket: "The Best American Short Stories 2008 gathers an array of inventive and unforgettable stories. Favorite and newcomer writers explore contemporary topics such as cloning, literary envy, cults, and teenage sex, as well as timeless subjects: love, sibling rivalry, immigration, and religion.
In Kevin Brockmeier's stunning 'The Year of Silence,' an unnamed city must face the absence of all sound, followed by an excess of noise. Katie Chase's bold and unsettling story, 'Man and Wife,' her first one published, brings to life an arranged marriage between a nine-year-old and a grown man. In A.M. Homes's 'May We Be Forgiven,' two brothers' rivalry undoes their marriages and eventually their lives. Nicole Krauss writes of an inherited desk that comes to represent the burden of memory for a poet in her beautiful story, 'From the Desk of Daniel Varsky.' And Steven Millhauser's ingenious 'The Wizard of West Orange' imagines Edison and his colleagues inventing machines dedicated to the sense of touch.
...The cultural relevance and intellectual potential of the short story are on display in this year's volume of the best-selling collection."
Taryn's Review: I'm not one of the those people who always understands the multiple layers of short stories. I'm not one who can figure out the allegorical meaning behind the story or the figurative meaning in the language of the text. I still like short stories, and overall, I liked the book, even if I wasn't able to examine it the way more skillful people can.
Some the stories left me wanting more and had me completely enamored in them. Some of the stories were enjoyable and entertaining. Some were dull and made me happy to see the end of them. There was one I skipped because I could not relate to the way the author wrote it.
One of the great things about the book was that you can start and stop the book pretty often since a break is available at the end of every story. Be warned though, it's not the type of book you can sit down in your favorite cozy chair and tackle in one reading. Some of the stories will even linger in your mind, so taking a break isn't a bad thing.
Some of my personal favorites were "Admiral," "May We Be Forgiven," "The Worst You Ever Feel," "Buying Lenin, "Quality of Life," and "Bible." I won't tell you the one I skipped because I'd hate to bias you against it already. Another one I enjoyed was "Virgins," although I know that I didn't really understand it. It's a good book, but some of the lackluster stories included in the book kept it at a ★★★★ for me.