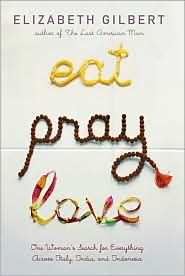 Author:
Elizabeth Gilbert
Title:
Eat, Pray, Love
Release Date:
January 30th, 2007
Publisher:
Penguin (Non-Classics)
Genre:
Non-Fiction
Book Jacket:
"In her early thirties, Elizabeth Gilbert had everything a modern American woman was supposed to want-husband, country home, successful career-but instead of feeling happy and fulfilled, she felt consumed by panic and confusion. This wise adn rapturous book is the story of how she left behind all these outward marks of success, and of what she found in their place. Following a divorce and a crushing depression, Gilbert set out to examine three different aspects of her nature, set against the backdrop of three different cultures; pleasure in Italy, devotion in India, and on the Indonesian island of Bali, a balance between worldly enjoyment and divine transcendence."
Taryn's Review:
I'll start by saying that Gilbert's book is totally self-absorbed and at times she was throwing herself one hell of a pity party. However, I really loved this book and the pity-party was the point of the book. Gilbert was going through an awful divorce and found herself in the black pit of depression. She, however, found the means and the will to change things via her adventurous trip around the world. Gilbert's writing style was laugh-out-loud funny at times, yet my heart also ached at times as I sympathized with the feelings she was talking about. No one's journey through depression is ever really pretty and one reason I admired Gilbert was that she was completely honest in her recollection about how she was feeling during her depression. So what if she was in the middle of India seeking God and her damn ex-boyfriend David popped into her head? We're all human...I have no doubt we'd all have these same kind of thoughts if we were slowly making out way back out of heartbreak and depression.
Gilbert wrote the book in such a way that I felt like I was sitting right next to her listening to her talk about her travels. Her writing was so descriptive, but in a way that doesn't make you cringe when you see the length of the paragraph. Gilbert also met some great people (Luca Spaghetti! Richard from Texas!) who were great characters in contrast to the self-pitying Gilbert. It's a book I highly suggest. Don't get me wrong...there's no Pulitzer Prize waiting in the shadows, but there's definitely adoring fans lurking!