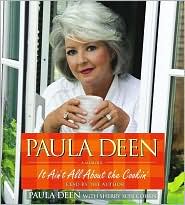 Author:
Paula Deen with Sherry Suib Cohen
Title: It Ain't All About the Cookin': A Memoir
Release Date: April 3rd, 2007
Publisher: Simon & Schuster
Genre: Non-Fiction Memoir
Book Jacket: "So, y'all, here is what my publisher calls my memoirs.
How did they come about? Well, I've written four cookbooks, and after each one, I got thousands of letters from people asking about my personal life, not just my life with grits. Until now, I haven't been about ready to do that. Maybe if you heard the truth about Paula Deen, about the mistakes I made in my life, how bad my judgment's been at times, and how guilty I still feel because my mothering wasn't always so wonderful...well, maybe you wouldn't be quite as lovin' to me as you have been. And that would kill me.
But suddenly, somehow, it's time to show and tell-warts and all. I plan to tell some hard secrets in these pages, but it's taken a long time to get up the nerve to do so...
So, this is a book wishin' you best dishes from my house to yours, but it's also a look into my home, my true life, my loves, and my Southern heart."
Taryn's Review: This was a fun book to read. Paula had some pretty hilarious metaphors in her book, and after being a fan of her cooking show for a while, I could just hear them flowing from her mouth. I read through the book in one sitting; it was written very straight-forward style and as Paula said, she doesn't hold back.
Paula wrote an account of her childhood and her reflections on getting married to the wrong man at a very young. She discussed the impact of losing both her mother and father before she turned 23 years old and the devastation led her to have serious agoraphobia as an adult. She struggled to leave her house and constantly dealt with panic attacks. Cooking was something she could do inside her home without fear and cook she did!
Finally, 20-some-odd years into her marriage, she finally left her marriage after her husband moved her across the state of Georgia as he roamed for jobs he never seemed able to keep. After a divorce, Paula finally got the idea for The Bag Lady, her lunch bag service, and with the support and love of some friends and family, her business took off. She catered to business-crowd, and later she opened The Lady restaurant at the Best Western in Savannah, GA. The restaurant proved successful and required another move. After the move the establishment got a new name - The Lady and Sons on West Congress St. Paula was able to buy more properties to expand so she could accommodate the large lines of people waiting to try her Southern cooking.
Food Network found Paula, and the rest is history...as far as her public life went. In her private life, she was ready to marry the love of her life, but his daughter was none-to-pleased about it and let it be known.
In the end, Paula wrote the book just like she speaks, and it's a very entertaining book. It's obviously not going to be known as a work of genius (and it's not), but Paula has led a real life without the advantage of being born with a silver spoon in her mouth. The woman worked hard, scraped up her pennies, and even at times had to cash a few bad checks, but that is what makes such an admirable, successful person.