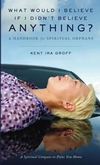 Author:
Kent Ira Groff
Title: What Would I Believe If I Didn't Believe Anything?: A Handbook for Spiritual Orphans
Release Date: January 2, 2004
Publisher: Jossey-Bass
Genre: Spiritual Self-Help
Book Jacket: "This is a guidebook for spiritual orphans that shows how they
can 'doubt their way home' by embracing their doubts and asking the hard
questions as a meaningful path toward genuine faith. Kent Ira Groff helps
readers value their own questions and learn to talk about spiritual matters in fresh, nonreligious language. Rather than handing down doctrines 'from above,' Groff invites readers to look at life 'from below,' exploring experiences of daily living. He helps the reader fine the grace in the grit of everyday life, seeking analogies of faith in film and literature, psychology and science, poetry and arts, music and sports."
Taryn's Review: After reading this book, I felt like it was geared toward people who had previously been heavily faithful at some point in life and were now finding themselves spiritually lost. My background didn't match the target audience, so it might be no surprise that I didn't find the book all that helpful. In fact, I found it boring a majority of the time.
Groff's style of writing felt like rambling. At the end of the chapters, he would say something along the lines of, "Now that we have explored success..." and I'd be mystified. We did? Did I miss it? Where was it? The chapters felt loose, unstructured, and full of irrelevant thoughts that were disconnected from the supposed topic Groff was writing about. The book jacket also claimed that Groff wrote in a "nonreligious language," but I would disagree. Groff is constantly quoting Jesus, Buddha, God, the Bible, and other religious texts that have been written. He does have a thing for holograms and he mentioned them as a metaphor a few times.
One aspect I did like about the book was the exercises that Groff had at the end of each chapter. I think the exercises could be useful for people to take a step back and reflect on their lives. However, you really don't need to read the chapters to do them...they are pretty self-explanatory. I would pass on this book.