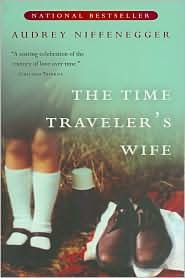 Author:
Audrey Niffenegger
Title: The Time Traveler's Wife
Release Date: September 17th, 2003
Publisher: MacAdam/Cage
Genre: Fiction
Book Jacket: "Audrey Niffenegger's innovative debut, The Time Traveler's Wife, is the story of Clare, a beautiful art student, and Henry, an adventuresome librarian, who have known each other since Clare was six and Henry was thirty-six, and were married when Clare was twenty-three and Henry thirty-one. Impossible but true, because Henry is one the first people diagnosed with Chrono-Displacement Disorder: periodically his genetic clock resets and he finds himself misplaced in time, pulled to moments of emotional gravity from his life, past and future. His disappearances are spontaneous, his experiences unpredictable, alternately harrowing and amusing.
The Time Traveler's Wife depicts the effects of time travel on Henry and Clare's marriage and their passionate love for each other, as the story unfolds from both points of view. Clare and Henry attempt to live normal lives, pursuing familiar goals-steady jobs, good friends, children of their own. All of this is threatened by something they can neither prevent nor control, making their story intensely moving and entirely unforgettable. "
Taryn's Review: This book had one of the most unique plots I've ever read. The time travel is hard to understand at first, but as the book continued it became somewhat easier to decipher, although I'll admit I'm not sure I totally understood the concept. The book can be confusing but it was mysterious at the same time and it kept my interest level high.
This book also broke my heart. I am in love with a wonderful man, and I cannot image dealing with Henry and Clare's situation. It's hard enough to not be fearful in a normal relationship, but to know your husband is somewhere in time and to not know whether he is safe or not and to not be certain if he will ever return safely into your arms is terrifying. Clare is certainly stronger than I would ever be in that situation.
The book is sad, no doubt, but it makes you think after you put it down. I would have liked to have given it 5 stars, but like I said, the time traveling was a bit confusing for me. There are moments I just don't understand and that possibly don't fit (I'd go into more detail, but I hate to give away spoilers about the book). This was the kind of book I want to sit down with the author and say, "Okay, now can you explain this part to me and explain why he wouldn't know if he already..."
It's a big book and the sheer size of it will probably turn off some people. It's also not a book you can speed through on a lazy day lying in the sun. It's the kind of book that will require your full attention and it will command your thoughts even after you're finished. I teared up a few times, but it's hard to cry when your husband it sitting across from you saying, "Are you okay?" If you have the time and energy and have an open mind, pick up the The Time Traveler's Wife.