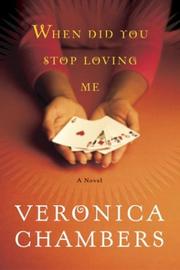 Author:
Veronica Chambers
Title:
When Did You Stop Loving Me
Release Date:
May 25th, 2004
Publisher:
Doubleday
Genre:
Fiction
Book Jacket:
"When Did You Stop Loving Me is the warm and tender story of Angela, a young girl growing up in 1970s Brooklyn. One day Angela goes to school and returns home to find her mother gone. Her magician father, Teddo, left to raise Angela alone, insists on keeping Melanie's disappearance shrouded in mystery, but later Angela wryly observes, 'My father was a magician, but my mother was the real Houdini.'
Veronica Chambers has written a compelling story about a young girl's struggle to navigate her way through her family's web of love, loss, and magic. As Angela tries to piece her world back together and figure out why her mother has abandoned her, she's left to ponder the soul-shattering question: When did you stop loving me?
A universal story that is both finely tuned and elegant, When Did You Stop Loving Me captures the intricacies, pleasures, contradictions, and complexities at the heart of every family. Spare and exquisitely told, this novel will seep beneath your skin and stay with you long after the last page has been turned."
Taryn's Review:
This is one of the those books that was very easy to read through quickly and it held my attention well. Eleven year-old Angela's discovery of her mother's abandonment brought her to remember her mother through flashbacks, which Veronica Chambers wrote very well. I could really feel the admiration and love Angela had for her mother when she recounted the memories of her.
Chambers also did a great job of presenting the difficulty Angela's magician father, Teddo, had in dealing with the departure of his wife. It wasn't that Angela and Teddo weren't close before she left, but Angela depended on her mother for things like cooking, cleaning, personal hygiene, money management, etc. Angela witnessed her father's attempt to do these things and realized how much she needed to learn to handle the daily chores on her own.
I thought the bond Teddo and Angela developed was sweet, even if a little sour at times. Teddo didn't always make the right or best decisions regarding Angela, but he worked hard to try and create a secure family for himself and his daughter. He also did his best to instill Black pride into Angela's self-identity and to make her aware of past and present struggles African-Americans faced in the 1970s. Angela discovered growing up without a mother was not easy, but manageable.
The ending was a bit of a disappointment. There were some issues in the book that I would have liked Chambers to review and explain or follow-up on what happened to certain characters that came into contact with Angela. The book bluntly closed without tying loose ends. Despite that, Chambers had a flair for writing words that fascinated me. I wouldn't necessarily call this work beautiful prose like in some works, but the point-of-view in this book was from an 11 year-old, and Chambers really did a fantastic job writing from that point as well as hooking the reader in.