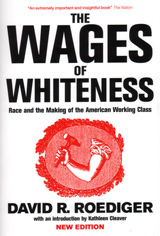 Author:
David R. Roediger
Title:
The Wages of Whiteness: Race and the Making of the American Working Class
Release Date:
July 17th, 2007
Publisher:
Verso; New Edition edition
Genre:
Non-fiction
Book Cover:
"Combining classical Marxism, psychoanalysis, and the new labor history pioneered by E.P. Thompson and Herbert Gutman, David Roediger's widely acclaimed book provides an original study of the formative years of working-class racism in the United States. This, he argues, cannot be explained simply with reference to economic advantage; rather, white working-class racism is underpinned by a complex series of psychological and ideological mechanisms that reinforce racial stereotypes, and thus help to forge the identities of white workers in opposition to Blacks."
Taryn's Review:
You know what I love about history? I love that in the present field, historians can look at events, movements, or whatever they please from various perspectives to help us understand the past better. This was one of the books where I was all, "Wow...I never would have thought of that!"
My class had a good time discussing this book, although we did struggle a bit with picking out the thesis of the book. I'm not sure that without my professor's help we would have; that was the biggest flaw of the book for my class.We wanted the thesis to be more clear!
I was a bit skeptical of the psychoanalysis argument, but still, a neat book to read. It really made me think and I love that Roediger looked at this issue from the perspective he did. This book is definitely suited for the history lovers.